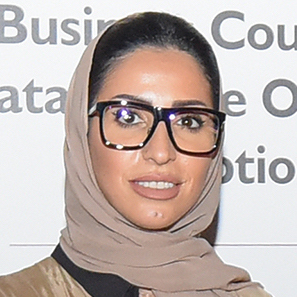 Sheikha Mayes bint Hamad Al Thani
Managing Director - Qatar
---
Sheikha Mayes bint Hamad Al Thani is an extremely accomplished businesswoman, overseeing many businesses across different sectors in Qatar. She is currently the Qatar Managing Director for US-Qatar Business Council, Owner/Managing Director for AFTC/Global Logistics/GFC, Owner/Managing Director for The Guilt Free Company. Sheikha Mayes holds an MBA degree from the University of Leicester and a BFA degree in Interior Design from Virginia Commonwealth University.
Mayes is experienced in improving organizational initiatives through the development and implementation of corporate policies. Her core competencies include financial management, project management, procedure development and business engagement. She is recognized for the ability to resolve multiple and complex issues and motivating staff to peak performance.
Mayes is certified Holistic Nutritionist, in which she focuses on increasing awareness about healthy ingredients through her F&B business, The Guilt Free Company. She is also a dedicated YPO member, engaging in learning events, networks and functions along with over 26,000 CEOs worldwide.
Managing the US-Qatar Business Council, Mayes aims to engage the council's members and expand the broader bilateral US-Qatar business relationship. She believes the establishment of the USQBC office in Doha will aid in reflecting Qatar's true image and business environment to the US business sector and will encourage further investments in both markets.